After Winter Comes Spring: A Critical Look at Food Systems in Chicago
/
AREA | CHICAGO
AREA#2 builds on the stated goal "to be a shared space to fuel, debate, refine, express and implement our collective goals for a more desirable and livable Chicago and world." This particular issue will focus on food politics through the lens of local groups who are committed to urban agriculture, radical ecology and to creating an alternative food infrastructure in Chicago.
Coercive Consumption
/
Claire Pentecost

Neoliberal Appetites
/ Brian Holmes
VARIOUS PROJECTS
FRUIT
takes up the challenge of elevating the ecological knowledge of consumers and encouraging a way of life that is friendly to the environment.
We
want consumers to be conscious of the entire life of a product, from production to utilization, and not just what they see in the stores. Consumers must be aware that every phase of a product's life influences the environment and ourselves.
While cities are often seen as set aside from nature, we aim to investigate the agriculture which feeds urban dwellers. For
Beyond Green
,
Free Soil
will use oranges as a vehicle to explore the complex relationships that make up the worlds Food Systems.
The
VisibleFood
project is a website and database created to expose the hidden costs of the globalized system that produces, processes and distributes our food. These costs are not accounted for in corporate balance sheets or in reports on national economies, but are deferred-either to the future or to people somewhere further down on the food chain . The damages are paid by the water we drink, the air we breathe, the soil that has become depleted and poisoned, by whole economies in other countries, by small farmers everywhere, by our health and even more by children's health, and by workers paid less than a living wage to make our food appear in supermarkets and restaurants as if by magic.
Think of it as a "Whole Truth in Labeling Act" initiated and performed by citizens in the absence of government and corporate responsibility. No such database currently exists. We have designed ours as a managed open content system so that new information can be submitted by users who are either already doing this kind of research or are inspired to start. The website includes a guide to research which gives users a primer to locating and evaluating information on these topics as well as a step-by-step guide to the easiest method for inputting the information you uncover. If you think you want to add to this growing bank of information please register. In addition to the database itself, the website is also a nexus for information and analysis on these issues.
The
Temescal Amity Works
is a community art project that facilitates and documents the exchange of backyard produce, conversation, and collective biography within the Temescal Neighborhood of Oakland, CA. It is created by Ted Purves and Susanne Cockrell in collaboration with the Temescal Merchants Association and area residents.
Since the beginning of 2005, we have maintained a community crop sharing program called The Big Backyard and a storefront just off Telegraph Avenue that hosts an open space called Reading Room. We produce an ongoing series of free postcards that document the neighborhood's social economy, residents and ecology. These postcards and our other publications, such as maps and recipes, are available at our storefront, through our website or at local businesses throughout the year.
Fallen Fruit
is an activist art project which started as a mapping of all the public fruit in our neighborhood. We ask all of you to contribute your maps so it expands to cover the United States and then the world. We encourage everyone to harvest, plant and sample public fruit, which is what we call all fruit on or overhanging public spaces such as sidewalks, streets or parking lots. Fallen Fruit has moved from mapping to planning fruit parks in under-utilized areas. Our goal is to get people thinking about the life and vitality of our neighborhoods and to consider how we can change the dynamic of our cities and common values.
Fallen Fruit: A Mapping of Food Resources in Los Angeles
/
The Journal of Aesthetics & Protest
NPR /

Private Trees, Public Property: Picking 'Fallen Fruit'
MILK
Europe as Europe. No borders, just land with people and things. People and things that move.
MILK is a locative art - mapping project, that explores visual and documenting possibilities of GPS technology. Since summer 2003 it has been developed as international collaboration project between
Esther Polak
, Ieva Auzina and RIXC – Riga Center for New Media Culture.
MILKproject introduces to one of the countless movements of the international food trade, in this case milk, produced by Latvian farmers, made into cheese by a local factory with the help of an Italian expert, transported to the Netherlands, stored in a Dutch cheese warehouse to ripen and sold at the Utrecht market.
The map follows the milk from the udder of the cow to the plate of the consumer, by means of the people involved. They all were given a GPS device for a day: one of the days that they were somehow occupied with the movements of this dairy. The installation shows the actual GPS-tracks, the reactions of the participants on the tracks, and their personal relationship with the landscape involved.
Milk Traces becoming readable
/ Thomas Thiel in conversation with the artist Esther Polak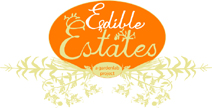 Edible Estates / gardenlab
Edible Estates is an attack on the American front lawn and everything it has come to represent. It is an ongoing series of projects to replace the front lawn with edible garden landscapes responsive to local culture, climate and landscape.
Edible Estates proposes the replacement of the American lawn with a highly productive domestic edible landscape. Food grown in our front yards will connect us to the seasons, the organic cycles of the earth and our neighbors. The banal lifeless space of uniform grass in front of the house will be replaced with the chaotic abundance of bio-diversity. In becoming gardeners we will reconsider our connection to the land, what we take from it and what we put in it. Each yard will be a unique expression of its location and of the inhabitant and their desires. Valuable land will be put to work.
The Edible Estates project will be implemented in 9 cities in the United States over the next 3 years. An adventurous family in each town will offer their typical suburban front lawn as a working prototype for the region. They will dare to defy the sweeping continuity of their neighborhood's green lined streets. Working together with the family and additional helpers the front lawn will be removed and replaced with an edible landscape. This highly productive garden will be designed to respond to the unique characteristics of the site, the needs and desires of the owner, the community and its history and especially the local climate and geography.
A booklet will also be produced specifically for each town and distributed for free. It will demonstrate to residents how they may go about replacing their lawn with a food producing landscape. The booklet will include listings of local nurseries, fruits and vegetables that are recommended for the region, native plants that are edible, local businesses that may assist with the labor and maintenance, basic gardening principals and further reading resources.
With the modest gesture of reconsidering the use of our small individual private yards, Edible Estates takes on issues of global food production, our relationship with our neighbors and our connection to the the natural environment.
The Edible Estates project is part of the
Gardenlab
program, established by Fritz Haeg in 2001. With the garden as metaphor & laboratory, Gardenlab initiates ecology based art & design projects.
Not A Cornfield
is a living sculpture in the form of a field of corn. The corn itself, a powerful icon for millennia over large parts of Central America and beyond, can serve as a potent metaphor for those of us living in this unique megalopolis. This work follows a rich legacy of radical art during the 20th century on a grand scale. I intend this to be an event that aims at giving focus for reflection and action in a city unclear about where it's energetic and historical center is. With this project I have undertaken to clean 32 acres of brownfield and bring in more than 1,500 truck loads of earth from elsewhere in order to prepare this rocky and mixed terrain for the planting of a million seeds. This art piece redeems a lost fertile ground, transforming what was left from the industrial era into a renewed space for the public. The California Department of Parks and Recreation is currently designing the historical park this site will become. This design process has taken several years so far and is a difficult process both because of the many communities adjacent to the site they would all like to serve and because of limited funding. By bringing attention to this site throughout the Not A Cornfield process we will also bring forth many questions about the nature of urban public space, about historical parks in a city so young and yet so diverse. About the questions of whose history would a historical park in the city center actually describe, and about the politics of land use and it's incumbent inequities. Indeed, "Not A Cornfield" is about these very questions, polemics, arguments and discoveries. It is about redemption and hope. It is about the fallibility of words to create productive change. Artists need to create on the same scale that society has the capacity to destroy.
field trip
/
nance klehm
one lovely june afternoon, my junk friend celio helped me "find" a shopping cart and get it to my house. that weekend, i filled the shopping cart with soil and planted it with six kernels of "golden bantam" organic heirloom 1902 sweet corn. two months later, the shopping cart was equipped with a travel accessories : radio, raincoat, journal, thermos and homemade seed packets and the corn hit the road.
folks volunteered to be pushers/farmers and traveled the streets and alleyways of chicago with the corn and their own interpretations and agendas. the corn cart has visited community gardens, toured supermarkets, politicized a street fair, gone out to coffee and rested in many backyards. the corn has been attacked by hail, squirrels, cucumber beetles and idle curious hands. it has been a long and circuitous field trip.
The Resource Center's
City Farm
is a sustainable organic farm bordering two very diverse Chicago neighborhoods: Cabrini Green and The Gold Coast. Located on the west side of Clybourn Avenue, just north of Division Street, the farm boasts 30 varieties of tomatoes as well as beets, carrots, potatoes, gourmet lettuces, herbs and melons. All produce is grown in composted soil generated from various sources, such as restaurant trimmings from some of the city's finest kitchens.
How to Make a City Farm
/ as told by Ken Dunn to Salem Collo-Julin (PDF)
Driving Around with Ken Dunn
/
AREA | CHICAGO
Recycling, Renewal, and Radicchio: Ken Dunn and Mobile City Farmstead
/
TENbyTEN
In the news...
South Central Farmers
Since 1992, the 14 acres of property located at 41st and Alameda Streets in Los Angeles have been used as a community garden or farm. The land has been divided into 360 plots and is believed to be one of the largest urban gardens in the country.
The City of Los Angeles acquired the 14-acre property by eminent domain in the late 1980s, taking it from nine private landowners. The largest of these owners, Alameda-Barbara Investment Company ("Alameda"), owned approximately 80 percent of the site. The partners of Alameda were Ralph Horowitz and Jacob Libaw. The City originally intended to use the property for a trash incinerator, but abandoned that plan in the face of public protest organized by Juanita Tate and the Concerned Citizens of South Central Los Angeles.... (Continue >
What we are about
)
Some resources...
The Land Institute
/ Salina, Kansas
The Land Institute has worked for over 20 years on the problem of agriculture. Our purpose is to develop an agricultural system with the ecological stability of the prairie and a grain yield comparable to that from annual crops.
Wisconsin Foodshed Research Project
/ Madison, Wisconsin
Ag Observatory
/
Institute for Agriculture and Trade Policy / Minneapolis, Minnesota
Food First
/ Oakland, California
Leopold Center for Sustainable Agriculture
/ Ames, Iowa /
Food, Fuel, and Freeways: An Iowa perspective on how far food travels, fuel usage, and greenhouse gas emissions
Food Routes
The Politics of Food
Poverty Mapping / Global Food Security