Camp Campaign
Taking as our starting point, the intolerable conditions confronting the detainees in Guantanamo Bay, Cuba, we will travel through selected locations in the United States recording interviews and holding public discussions on the subject. The work would be something between:
1. A research project exploring a range of perspectives on the notions of camp & specifically Guantanamo Bay.
2. An awareness campaign bringing that research and our questions to the public
(camp)
How is it that a camp like Guantanamo Bay can exist in our time?
We would like to begin our campaign with this simple question and join other organizations, lawyers, thinkers, and activists in contesting not only the existence of this camp but also examining its relation to other phenomenon we are confronted with in the social and political landscape.
We feel that Guantanamo Bay is only a more acute or extreme version of what is taking place around us in the name of security. And our campaign attempts to draw out those connections and link them to historical precedents as well as everyday phenomenon....
(campaign)
There are a variety of campaigns, campaigns for public office, campaigns for public awareness, fundraising campaigns, campaigns for specific causes, military campaigns, recruitment campaigns, campaigns to win our hearts and minds, campaigns of fear and even love. Our's is a campaign not as a campaign. Our's is not a campaign of slogans, clear messages, or even specific ends sought. No doubt we are propelled to begin this campaign because we reject the supposed necessity of the camps in Guantanamo Bay, we see ourselves as a part of the struggle to shut it down and encourage public debate/outrage about their existence. But we recognize that our struggle will not end, once it is shut down. We recognize that in order for our campaign to be successful, we need to also speak with our public not just at them. We recognize that there will be many other campaigns necessary to struggle for the community we desire....
See also:
Guantanamobile
The Miss Rockaway Armada
The Miss Rockaway Armada is a group of approximately 25 performers and artists from all over the country including members of the
Toyshop Collective
,
Visual Resistance
, The Amateurs,
The Floating Neutrinos
,
The Infernal Noise Brigade
,
The Madagascar Institute
and the
Rude Mechanical Orchestra
. This July we will converge in Minneapolis to construct a flotilla of rafts that will journey down the Mississippi River. We'll stop in towns along the way, hosting musical performances and vaudeville variety-theater in the evenings, along with workshops and skill-shares centered around arts and environmental issues during the day. In our travels we intend to share stories and to solicit dialogue around subversive and constructive ways of living. We are a group of intrepids who believe in a hands-on, live-by-example approach to creating change within our culture. We are taking cues from Johnny Appleseed, traveling medicine shows, nomadic jewel box theater, and of course that old radical Mark Twain.
Lost Highways Expedition
From July 30 to August 24 of 2006, a massive movement of individuals will plot a route through Ljubljana, Zagreb, Novi Sad, Belgrade, Skopje, Priština, Tirana, Podgorica and Sarajevo. A self-organized exchange of knowledge and resources, Lost Highway Expedition is a temporary society that will navigate the new and dynamic territorialities of the Western Balkans.
Welcome to the Lost Highway ... find yourself in the Future.
Experience, documentation and projects developed from the expedition will lead to exhibitions, publications and symposia of "Europe Lost and Found" in Stuttgart and Ljubljana in 2007 as well as conference "Europe Lost and Found" at Columbia university in New York in the Fall of 2006. Lost Highway Expedition will begin in Ljubljana, and travel through Zagreb, Novi Sad, Belgrade, Skopje, Pristina, Tirana, Podgorica to conclude in Sarajevo, comprised of two days of events at each city and one day of travel in between. The expedition is meant to generate new projects, new art works, new networks, new architecture and new politics based on experience and knowledge found along the highway.
Initiated and organized together by Centrala Foundations and
School of Missing Studies
: Azra Akšamija, Ana Dzokic, Katherine Carl, Ivan Kucina, Marc Neelen, Kyong Park, Marjetica Potrc & Srdjan Jovanovic Weiss, together with project partners in the cities of the Lost Highway Expedition.
See also:
Capturing the Moving Mind

Exchange Project / Nancy Nisbet
This project exchanges the studio for the roads, truck stops, border crossings and cities of North America. Through the untidy weaving of politics, surveillance technology and identity construction this performance engages critique. Over time and with the combined effort of exchange participants, resistance, solidarity, and artistic critique emerge.
Politics: Exchange engages in cross border, person-to person, trade negotiations. It offers artistic resistance to international economic agreements such as the North American Free Trade Agreement.
Surveillance: Exchange critiques and exposes Radio Frequency Identification (RFID) technology. Fears of terrorism, national security, and identity authentication have bolstered the demand for RFID.
Identity: Exchange questions and disrupts correlations between corporate consumer data and personal identity through the dispersal and exchange of personal belongings (corporate data elements).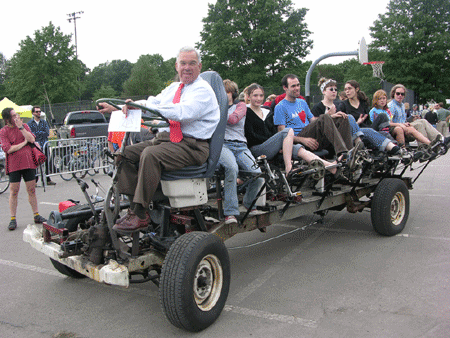 The Busycle
The Busycle is 15 person 100% passenger pedaled vehicle. The Busycle, a traveling public art project under development since 2005, runs solely on the energy of its passengers. All passengers are required to pull their weight and pedal in their seats. The pedal power then moves the Busycle from destination to destination. The Busycle's public life involves experimental public rides that travel down city streets, where story telling is of the essence. It is our goal that by bringing art and technology clearly into the public realm and as near to the community as possible (what could be closer than riding an art project down the streets where people live and inviting them onto the art?), we will begin to stir a dialogue about the current and universal issues from which the Busycle has grown, while creating a forum for people to pause and enjoy.
The Black Factory / William Pope.L
Conceived and constructed to fit inside a panel truck, The Black Factory travels throughout America to bring blackness wherever it is needed. The Factory consists of three compartments that unfold to create an interactive public environment made up of a library, a workshop, and a gift shop....
From:
The Black Factory Brochure
Mobile Studios
From April until the end of May 2006, the Mobile Studios will travel as a nomadic multimedia platform from Bratislava, Budapest and Belgrade to Sofia, and will temporarily possess the urban spaces in these cities. The Mobile Studios are an internationally networked pilot project of a mobile, autonomous production laboratory for young artists, musicians, performers and cultural programmers. In a subsequent program, artists and cultural producers will be invited to recreate the studio as directors. Mobile Studios are consisting of three corresponding units: the
Editorial
-, the
Talk
- and the
Live Studio
.
The installations and urban interventions that take place in the
Live Studio
, as well as the conversations and discussions of the
Talk Studios
, will be transformed and broadcast in the
Editorial Studio
in various formats. The production and broadcast processes will be made visible at the same time....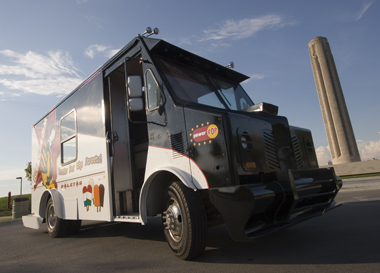 The Tactical Ice Cream Unit / Center for Tactical Magic
Frosty Treats & Food for Thought!
The ice cream vendor has long been synonymous with a roving oasis - a well-spring of refreshment; a reprieve from the heat; a cool intervention. In this regard, the Tactical Ice Cream Unit (TICU) is no different. The TICU emerges at a time when most channels of distribution, communication, and social interaction are mediated and constrained by the fervor of financial exchange. Incorporating an alternative strategy of utopian potlatch, the Tactical Ice Cream Unit is envisioned primarily as a mobile distribution center for ice cream and information.
More than meets the eye >
The Tactical Ice Cream Unit (TICU) rolls through the city in an act of intervention that replaces cold stares with frosty treats and nourishing knowledge. Combining a number of successful activist strategies (Food-Not-Bombs, Copwatch, Indymedia, infoshops, etc) into one mega-mobile, the TICU is the Voltron-like alter-ego of the cops' mobile command center. Although the TICU appears to be a mild-mannered vending vehicle, it harbors a host of high-tech surveillance devices including a 12-camera video surveillance system, acoustic amplifiers, GPS, satellite internet, a media transmission studio capable of disseminating live audio/video, and of course, ice cream. With every free ice cream handed out, the sweet-toothed citizenry also receives printed information developed by local progressive groups. Thus, the TICU serves as a mobile nexus for community activities while providing frosty treats and food-for-thought....
projet MOBILIVRE-BOOKMOBILE project
The projet MOBILIVRE-BOOKMOBILE project explores the long held tradition of bookmobiles as traveling libraries that promote the distribution of information.The BOOKMOBILE travels across the United States and Canada in a vintage airstream trailer visiting a variety of communities. Our annual traveling collection of approximately 300 book works range from handmade and one-of-a-kind to photocopied and small press publications....
Yes, Bush Can
October 27, 2004
Yes, Bush Can, an independent group dedicated to communicating Bush policies directly to the public, has abandoned its campaign and is officially endorsing John Kerry for President.
Before changing sides, the Yes, Bush Can team drove around the country supporting the President in a campaign bus they had equipped with sound and light systems, confetti cannons, and various props and costumes. They gave dozens of stump speeches, distributed campaign videos and "USA Patriot Pledges," and performed patriotic songs to audiences across the country.
Last week, the group officially split with Bush. "In the course of our travels, we ended up learning more about Bush's policies than he wanted us to know," said Harmon Spellmeyer, one of the Yes, Bush Can team. "We came to see that this administration is a catastrophe for most people...."
MobileBooths / StoryCorps
StoryCorps is a national project to instruct and inspire people to record each others' stories in sound.
We're here to help you interview your grandmother, your uncle, the lady who's worked at the luncheonette down the block for as long as you can remember—anyone whose story you want to hear and preserve.
To start, we're building soundproof recording booths across the country, called StoryBooths. You can use these StoryBooths to record broadcast-quality interviews with the help of a trained facilitator. Our first StoryBooth opened in New York City's Grand Central Terminal on October 23, 2003. StoryCorps opened its second StoryBooth in New York City in Lower Manhattan on July 12, 2005. We also have two traveling recording studios, called MobileBooths, which embarked on cross-country tours on May 19, 2005....
StoryCorps @ NPR
StoryCorps @ Democracy Now