Dignity Village / Village Building Convergence
On December 16th of the year 2000, a group of eight homeless men and women pitched five tents on public land and Camp Dignity, later to become
Dignity Village
, was born. We came out of the doorways of Portland's streets, out from under the bridges, from under the bushes of public parks, we came openly with nothing and no longer a need to hide as Portland's inhumane and Draconian camping ban had just been overturned on two constitutional grounds. We came armed with a vision of a better future for ourselves and for all of Portland, a vision of a green, sustainable urban village where we can live in peace and improve not only the condition of our own lives but the quality of life in Portland in general. We came in from the cold of a December day and we refuse to go back to the way things were....
The
Village Building Convergence
is part of The City Repair Project
Placemaking Program
, fulfilling City Repair's mission to educate, inspire and activate local communities and develop our city and bioregion as a network of interconnected Village Centers. As villagers, we seek to combine our highest knowledge and understanding of history, contemporary conditions, social, ecological and technological innovations and our respect for future generations.
VBC is a statement of our combined dedication to create the world in which we want to be living. At its root, VBC is about actively building our community, and realizing the strength and beauty of our power when we work and play together. By building a physical and social village infrastructure we are realizing our common visions for a lively and sustainable urban community. The Village Center is the place where we come together, feel nurtured and share our hopes and dreams.
The
Village Building Convergence 2006 (VBC6)
is a 10-day event from May 19th – 28th, 2006 in which neighborhoods activate to build shared public places that they have envisioned, designed, funded, and will maintain for themselves. Projects are created as a way for neighborhoods to craft physical places that express their local relationships, culture, and facilitate gathering and communication. All projects are built through collaboration, community conversations and commitment of a neighborhood to strengthen itself. Projects are founded on developing strong local relationships, social capital and equity, placemaking and ecological design, and supporting our local economy.
City Repair / Intersection Repair
The City Repair Project is group of citizen activists creating public gathering places and helping others to creatively transform the places where they live.
With a mostly volunteer staff and the help of hundreds of volunteer citizen activists, our many projects:
educate people about why most American neighborhoods are socially isolating and culturally inactive, and how we can transform them from the grassroots,
inspire people to both understand themselves as part of a larger community and fulfill their own creative potential, and
activate people to be part of the communities around them, as well as part of the decision-making that shapes the future of their communities.
A neighbor presents a proposal at the Division Street placemaking workshop, July 2001 at the Red and Black Cafe. City Repair was formed in Portland, Oregon in 1996 by citizen activists who wanted a more community-oriented and ecologically sustainable society. Born out of a successful grassroots neighborhood initiative that converted a residential street intersection into a neighborhood public square, City Repair began its work with the idea that localization (of culture, of economy, of decision-making) is a necessary foundation of sustainability. By reclaiming urban spaces to create community-oriented places, we plant the seeds for greater neighborhood communication, empower our communities and nurture our local culture.
Intersection Repair
is the citizen-led conversion of an urban street interesection into public square.
Streets are usually the only public space we have in our neighborhoods. But most all of them have been designed with a single purpose in mind: moving cars around.
With an Intersection Repair, that public space is reclaimed for the whole community. The intersection of pathways becomes a place for people to come together. The space becomes a Place - a public square.
The Mad Housers
Mad Housers Inc.
is an Atlanta-based non-profit corporation engaged in charitable work, research and education. Our charter outlines our goals and purposes:
To provide shelter for homeless individuals and families regardless of race, creed, national origin, gender, religion, or age.
To develop low income housing for people in need of housing.
To help people develop the skills and knowledge for constructing and rehabilitating housing and shelter.
To increase the quantity and to improve the quality of housing in the world.
To act, if necessary as an advocate for the homeless, to ensure that their moral and civil rights are protected.
The Mad Housers believe that if a person has a secure space from which to operate, they are much more capable of finding the resources to help themselves.
Learning Group
Learning Group
is comprised of Rikke Luther (DK) and Cecilia Wendt (S), co-founders of the Scandinavian former group N55, Julio Castro (MEX), co-founder of Tercerunquinto, and Brett Bloom (US), co-founder of Temporary Services. The different backgrounds are the basis for expanding the language we built up through sharing and mixing.
Learning Group pays attention to the local conditions it finds in the place where it chooses to work. In the past years Learning Group has mainly worked with resource materials and economies related to the specific situations where work has been carried out. Economic, environmental, labor, property rights, and many other issues are investigated in tandem to produce a variety of perspectives amongst ourselves and others. Learning Group engages in discussions of how knowledge is distributed and produced.
UNHOUSED
"Unhoused"
gathers visual evidence of populations in Atlanta, Chicago, Kyoto, Osaka, and Monterrey (MX), enduring very local variations of a global housing crisis. This evidence is part of our ongoing research for a book on the work of inspiring groups and organizations that bring visibility and innovative approaches to successfully address unhousing issues, pumping new energy into the struggles to articulate and confront complex housing problems.
Unhousing describes both the process by which people are displaced and the kinds of situations and structures generated in response to this displacement. Unhousing is manifested in very local and culturally specific ways. In Japan, the tidy shacks that populate Osaka's largest park look different from the sprawling favelas of Sao Paolo, or the vast squatted areas that increase the population of Mexico City at alarming rates. Encampments in Los Angeles are tolerated in an inverse relationship to the tiny cardboard shacks in Chicago, which are obliterated almost as quickly as they are built. While each local situation is different, the underlying causes are increasingly interrelated as corporate globalization extends its reach, impacting housing markets around the world in direct and indirect ways. Unhousing is not specific to cities. Rural areas have their own sets of unique concerns. This exhibition is a way to start looking at these unique situations together, to see their commonality through their differences.
N55
MICRO DWELLINGS
is a system for making low cost dwellings of variable sizes for any number of persons.It consists of movable housing modules that can form different configurations on land, on water and under water. The system allows for a diversity of materials as well as changes and adaptations.
The MICRO DWELLINGS are modular, can be scaled up and down, and expand and grow together with other systems into small communities. The MICRO DWELLINGS can be built onto rooftops of existing buildings or be suspended from a bridge or a wall. The modules can be mounted on wheels to become mobile or be connected to form floating constructions. As is the case with the version shown in this manual, they can also be made as watertight, amphibian houses that can be completely submerged or partly elevated to the water surface.
Most functions will be built into walls, and furniture, household equipment etc. will be provided by movable elements that change functions during the day. Supply modules can be mounted on the outside of the main modules.
The MICRO DWELLINGS are able to reflect changes in life, e.g. people moving in and out, the arrival of children, etc, as it is easy to add to the construction in stages. If people want to live together they can simply let their dwellings grow together, likewise, it is easy to separate modules and move them if desirable. The MICRO DWELLINGS in themselves do not define a social constellation, but only provide the basic equipment so that persons can configure their own social setting. The present version of the system is made of cheap steel plates and can be constructed by anybody who knows how to weld.
Temporary Services / MOBILE STRUCTURES RESOURCES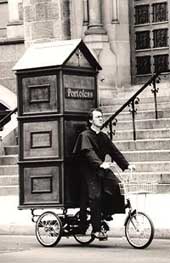 This
archive of Mobile Structures
is intended to serve as a resource for people that currently use Mobile Structures, that are interested in developing new mobile structures, and that are interested in the ideas that inform these practices. Mobile Structures are incredibly diverse in function and design. They exist for innumerable reasons, from military applications to basic entertainment purposes. This site attempts to present the vast array of individuals, organizations, and corporations that are using or marketing mobile structures to provide services, present ideas, and perform outreach.
It becomes easy to find commonalities of design in structures that are utterly unrelated in intent when looking at all varieties of mobile structures rather than just those designed for a specific purpose. One can start to see relationships between a mobile memorial and a mobile movie theater, or a library bookmobile and a mobile pet adoption center. One can start to think about what a mobile gym and a mobile dentist office might have in common. In researching mobile structures, it slowly becomes evident that every stationary institution seems to have its mobile equivalent - either as an extension of that institution or as a separate portable equivalent. Some museums have mobile traveling versions of their collection, while other museums lack a fixed location existing entirely in modified trucks.
Many of these structures exist to fulfill either a desire or a need to perform outreach, present ideas, or create convenience where easy accessibility is lacking. A library bookmobile brings books to people in rural areas that lack easy access to libraries. A mobile medical unit brings surgery to people that lack hospitals. A shared interest in mobility unites the most diverse practices. One can imagine bringing all of these mobile practitioners together and finding that they would have a lot to talk about with one another.
This archive attempts to break down some distinctions between practices in order to highlight the variety of mobile structures that are available. Bringing these disparate structures together suggests how one might develop even more interesting hybrid structures. Could one develop a mobile gym and movie theater where you could watch a film while riding an exercise bike? Could a mobile pet adoption service and dentist office co-exist, where a specialist that is trained as both a dentist and a veterinarian could alternately assist people and animals from the same modified trailer? This archive shows endless permutations of similar structures. How many times has a similar truck been adapted to suit very different functions?
A lot of people don't own their own houses or businesses, but many people own cars and bicycles. Even more people own luggage carts. Anyone can own or borrow a push cart or an abandoned shopping cart. Anything you can take with you or move from one location to the next to present ideas or perform a service qualifies as a mobile structure. While some of these resources are highly elaborate, other designs are incredibly modest. A Mobile Structure can be as large as an 18 Wheeler and as small as your coat pocket. Mobile Structures provide people with a means of bringing their work to others and expanding the audiences for their ideas.
SIMPARCH
Manufactured Home (1996)
10' x 32' x 8'
plastic sheathing, twigs, plastic twine, cable ties, plywood, cinder blocks, lights, video
This piece is made primarily from sheet plastic salvaged from manufactured home deliveries and natural materials. It has been installed several times with available materials and site-specific concepts. Viewers experience the work from inside and out.
SIMPARCH is an artist collaborative group organized and maintained by Matt Lynch and Steven Badgett. Since 1996, SIMPARCH has been creating large-scale interactive artworks that examine building practices and site specificity. The ethos of SIMPARCH has been to create an armature for social interaction through experimentation with materials and design.
Michael Rakowitz / paraSITE
PARASITISM IS DESCRIBED AS A RELATIONSHIP IN WHICH A PARASITE TEMPORARILY OR PERMANENTLY EXPLOITS THE ENERGY OF A HOST.1
paraSITE proposes the appropriation of the exterior ventilation systems on existing architecture as a means for providing temporary shelter for homeless people.
PARASITES LIVE ON THE OUTER SURFACE OF A HOST OR INSIDE ITS BODY IN RESPIRATORY ORGANS, DIGESTIVE ORGANS, VENOUS SYSTEMS, AS WELL AS OTHER ORGANS AND TISSUES.2
The paraSITE units in their idle state exist as small, collapsible packages with handles for transport by hand or on one's back. In employing this device, the user must locate the outtake ducts of a building's HVAC (Heating, Ventilation, Air Conditioning) system.
FREQUENTLY A HOST PROVIDES A PARASITE NOT ONLY WITH FOOD, BUT ALSO WITH ENZYMES AND OXYGEN, AND OFFERS FAVOURABLE TEMPERATURE CONDITIONS.3
The intake tube of the collapsed structure is then attached to the vent. The warm air leaving the building simultaneously inflates and heats the double membrane structure.
ECOSHACK
Raw culture. Real nature. Rough around the edges. Ecoshack is an offsite facility and design lab where inventors, designers, packagers and sellers of tomorrow's products and services can connect, ideate, prototype and hang out. Founded in 2004 by LA-based designer / strategist Stephanie Smith, Ecoshack's goal is to bring a little more fringe mentality to mainstream culture and commerce. Stay green.
onesmallproject